Just like any family, here at Indi-ED we were uncertain how this pandemic would affect us as a family. Especially for the families who were joining us for the first time.
We couldn't give the hugs that we were accustomed to and we couldn't hang out in person like we have always done outside of school at birthday parties, camping trips, and our family meals. 
However, just like any family with a good solid foundation we figured out how to build relationships and continue to support each other. When we say family, we don't mean just within one of the cohorts, we mean everyone at Indi-ED.
One of our parents who has an ice machine at home would prepare a 10 pound bag of ice for the hottest of our park days, thank you Randi, and her neighbor would deliver it, thank you Cara.
Another family made sure we had extra masks if anyone ever forgot theirs, thank you Olga.
We had two parents in my cohort volunteer to be guest speakers as they tied to our themes. Cara shared her experience with Buddhism to help us understand connection and compassion and her husband Kraig shared his experiences as a pilot for the Coast Guard and Southwest Airlines to help us understand courage.
We had one family volunteer to share their expertise weekly around Eastern Medicine as we worked through a mini-health unit, thank you Christina. (No bananas were injured during this acupuncture demonstration.)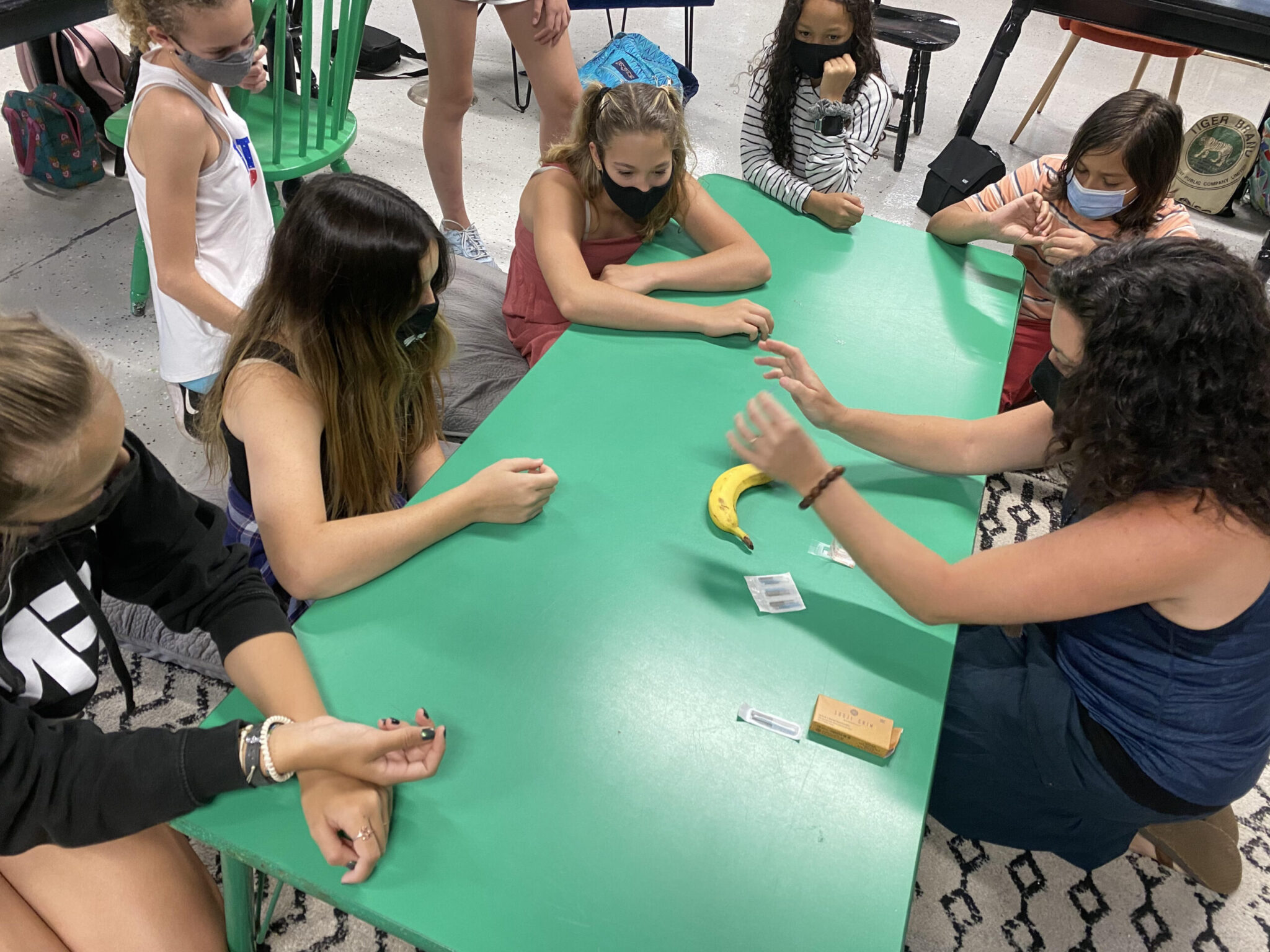 Our whole K-1 cohort has had family members involved when building their new garden, thank you Daphne, Erick, Johnathan, Christina, Randi, and Jack.
If you read our blog from last week you know that one student's grandfather shared his personal experiences during the civil rights movement, thank you Mr. Jones.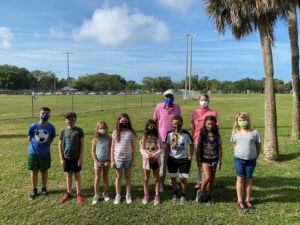 We also had two dads from our K-1 cohort, Chris and Wade, who took time out of their busy schedules to talk to Mrs. Pethe's  cohort about coding and provided us hands on activities and a real life connection.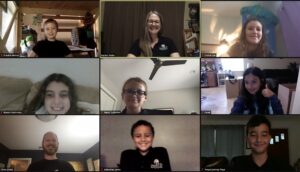 By the way, all of the above examples are from families new to Indi-ED.
Then there are our veteran students and families.
Molly is one of our high school students who has taught lessons to our K-2 cohort (her goal is to be a teacher, it is never too early to get real life experience). She also offered several online classes for all students in the beginning of the virtual part of our year.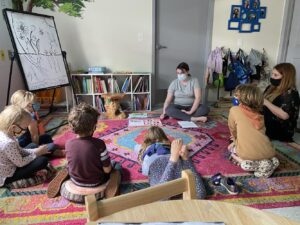 Ian is also a high school student who volunteered his time to teach Mrs. Pethe's cohort how to play tennis. In addition to that he also offered to mentor one of our new students. You can't even begin to understand what a difference this made and how jazzed they were to meet up with Ian and hang out each time they get a chance. 
Our veteran parents never fail to step up and do what it takes to keep Indi-ED moving forward.
Shannon has offered expressive art classes to our students to help manage the stress that came with all of the change that everyone was experiencing this year.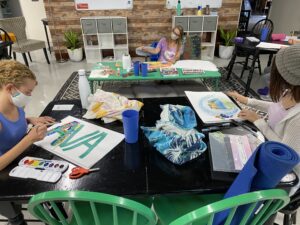 Ben tirelessly led the charge as the kids worked hard to raise money for the Children's Dream Fund. He along with other parents spent their Saturdays helping us set up, break down, and wash cars.
Ashley stepped up to the plate and covered the amount we needed to reach our end goal. 
Lind & Beatriz sent in donations just because.
Amber, Jennifer, and Jay have tirelessly dedicated many hours this year trying to help us find a permanent home for our school to meet our needs as we grow year over year. 
You get the point. Big or little, pandemic or not, our families always have our back and each other's. They say it takes a village, and we have a village full of families that we thank our lucky stars each and every day for.