My family has been involved with Tampa Bay Watch for many years. Our daughter was volunteering with this organization just after she started walking. They offer so many opportunities for families to be able to get out there and do something for our local environment, marine life, and habitat.
As my daughter grew up and I began facilitating one of Jane Goodall's Roots and Shoots groups they offered us some of the most amazing hands-on experiences that teach and expose children to our local estuaries and the marine life that depends on them. When I wanted to do the same for 50 kids in our local children's homes they were willing to lend me the gear to do it.
If that wasn't enough, they recently offered an equally exceptional teacher workshop that I attended. I was so excited about the unit I was going to teach my cohort at Indi-ED about Marine Biology. We had plans for an experience trawling the bay with Tampa Bay Watch and so many incredible hands on activities that I couldn't wait to facilitate it all. Then all of that came to a screeching halt on the evening of March 12th. It came to a halt for all of us.
Uncertainty, fear, apprehension, loneliness, confusion, frustration, and disappointment are just a few of the feelings that we have all gone through on this roller coast of a ride we are all on. Teachers are trying to figure out how to bring normalcy to the situation for their kids without frustrating the parents. Parents are trying to figure out how to juggle working from home while supporting their kids schooling and trying to keep them from losing their minds from boredom and from social isolation. We are all trying to find our rhythm in this new "normal."
As a teacher, my focus has been to try to incorporate activities into our lessons that get us all outside and enable us to continue the hands-on learning that we are so accustomed to at Indi-ED. I feel like we have accomplished that, but what I couldn't figure out how to replicate was the other part that makes us Indi-ED. That part is getting out in the community, speaking to experts in the field that we are studying.
So less than a week ago, the idea came to me to have a Mystery Guest during one of our ZOOM sessions. True to form, Tampa Bay Watch stepped up to the plate immediately. When I asked if they could do it on site, Jordon Findley, their Education Program Director, drove up and tried it out on her phone to see if it would work. The result was an incredible educational experience for my kids that lifted their spirits and brought the life of Indi-ED back into our now virtual classroom.
I cannot even begin to describe to you how incredible it was to know that Tampa Bay Watch was willing to take the time during this crazy time to give the kids in my cohort that special moment. As we all begin week 5 of this physical isolation, the timing could not have been any better. We all desperately needed to feel the excitement from watching a Tarpon jump out of the water, the amazement and wonder when a puffer fish swims up to the camera to say hello, and the pure joy when the Ornate Diamondback Terrapin excitedly swam up, down, and around for the camera.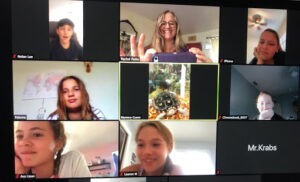 If that wasn't enough, after many deep questions, one of my students asked if they ever dressed up the turtle like a Ninja, Jordon did exactly that and sent it to me the next day. All of what you did for us Jordon and Tampa Bay Watch warmed my heart, it gave my kids a little glimmer of what used to be our normal, and it brought tears to my eyes. Thank you for continuing to make such an incredible difference in our community.