This week was a very exciting week. The main event was our monthly Indi-ED family meal. If you don't know what it is, then you came to the right place! The family meal is when everybody and their families come out to eat and talk to each other. But this week was a little different- instead of one of our families preparing a meal for everyone, it was OUR turn to make the meal.
Some people may think a meal is just a meal, and that it is only about the food. But there is so much more to it. First of all, we learn about everything that goes into preparing a meal for a large group of people. Also, the meal is a great time for all of our families to spend time together, get to know each other better, and strengthen their connections.
This is how we, the students of Indi-ED, prepared…
First of all, we came up with our theme. We decided on Holidays Around the World. This was because we realized we like many different types of food and we also love Christmas. We chose Mexican and Italian as our families' favorites, and then used that to make the menu. We all agreed on the menu, then made a detailed grocery list. This helped us prepare by knowing every item we would need to purchase.
Next, we went grocery shopping. Our budget was $150, and we had to feed about 50 people! So, we had to look out for the best prices and deals to get the most food possible. Before we went shopping, we discussed the math skills we would use at the store- such as estimating, rounding and adding decimals.
On Tuesday, we went to two different stores. The first one was a local fresh market (not the one you're thinking of), and got the vegetables for the salads featured at the family meal. We got all of our produce for only $18 total! The woman who owned the market was even nice enough to give us a pack of Christmas cookies after we purchased our produce.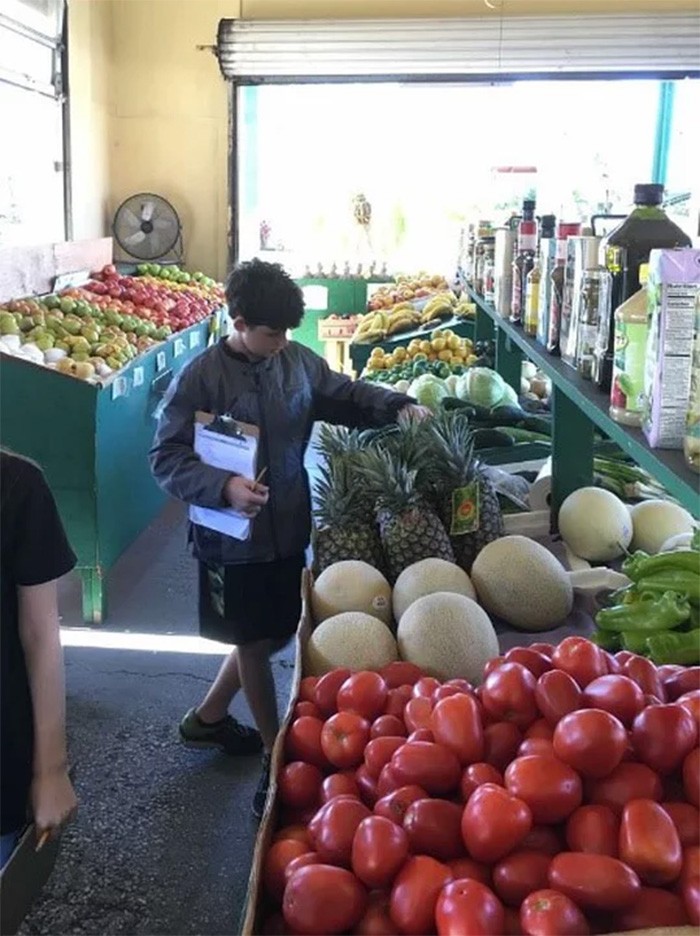 Our next stop was Publix. We had $132 left over from the market and we were going to make it work! We split up into groups of 3 and set out for ingredients.
We had to work together to find all of our necessary ingredients, and find the best prices and sales. As we put the items into the cart, we would write the price down. While we were gathering everything, we would also paused to estimate and sum up our items to make sure we were staying within the budget. Grocery shopping is not as easy as we thought.
After we got everything we needed for an amazing family meal, we headed back to school to start making the food.
We cleaned, cut, and stored all of the fresh food for our salads. We also used crockpots to cook taco meat, pasta, rice, and beans. It was so fun to prepare this delicious, healthy food for all of our families.
The next day, we did some final preparations and took all the food to the family meal, which was held at TASCO Teen Center. (Side note: we were also celebrating our photography class graduation.)
Once everyone got there, we got a warm welcome from Mr. Rob and Ms. Emily, and some Christmas carols from Lauren and Reece. Then, we enjoyed all the great things our students made for everyone and we had so much fun! Thank you TASCO for opening your center to us, we loved taking photography and we hope to be back soon!!!
(We also sewed teddy bears for foster children.)
Family meals are important for so many reasons: we can learn from them, we spend time with and relate to people we may not have talked to before, and we strengthen our existing relationships. Since we are bigger this year, some of the parents and grandparents may have never had a conversation. But, the family meals give them a time for that.
It's also important so the kids and their families get an opportunity to cook for the school and host an important event.
Like we mentioned, we chose the theme Holidays Around the World. To celebrate this theme even more, we had ugly Christmas sweater day, where we wore our sweaters to symbolize the fun and joyful side of Christmas. We also made our own cards and wreaths as presents to our parents, grandparents, or guardians. These symbolize unity and the gift that keeps on giving.
Because we love our families and are grateful for them, we wanted to give them a small token to show them and spread the Christmas spirit.
To us, the holidays are all about being joyful and grateful.
Even though we are joyful and grateful every single day at Indi-ED, it was nice to have a special event to celebrate it even more.