This week at Indi-ED we were very busy but we had lots of fun.
We took some awesome Christmas pictures.
Also, we did lots of decorating.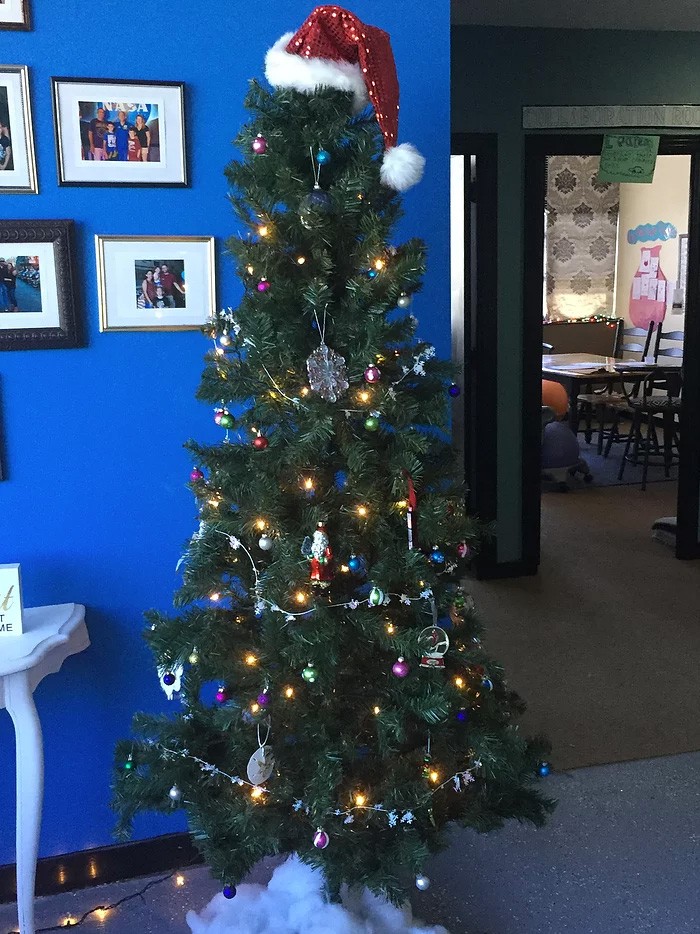 The younger group was spreading some joy, (as a part of their daily acts of kindness) they re called the "Indi-ED joy spreaders" and they went around St. Pete giving people candy canes at All Children's and the police department to try to make their day better and to say thank you for their hard work.
We also had a special visit by Buddy the elf.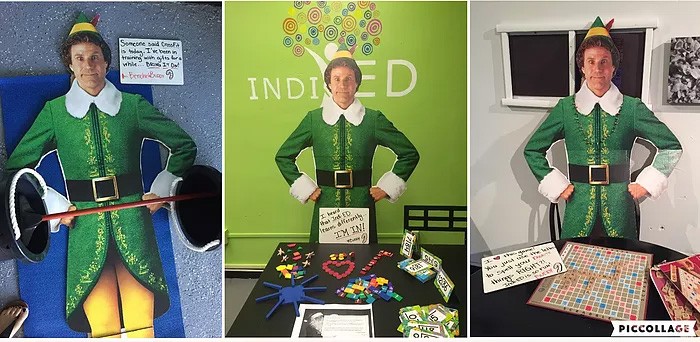 For the older cohort (which means group) we had two engineers come in and teach us about scaling. Which is if you had to build a road that was 30 miles long, and you were drawing out the plans, but you only have a piece of paper that was only 8×6 inches. What you would have to do is scale such as one inch equal 5 miles, and you would draw your road to be 6 inches long. In this picture we are scaling the house to fit on our piece of paper.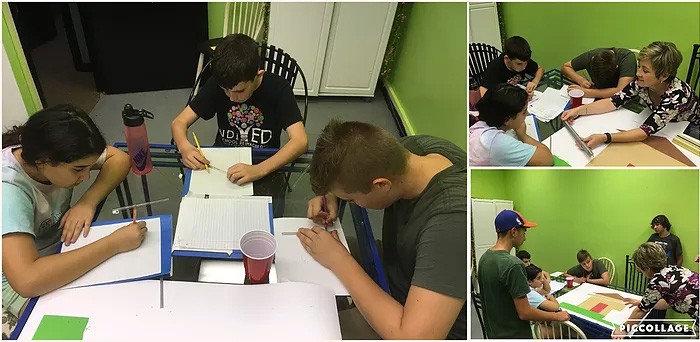 At Indi-ED each month we participate in a new kind of activity so for the month of November we did CrossFit. It was fun but hard these pictures show us working out and getting stronger.
Ethan L.
________________________________
Our official current theme for these next few months is, "Kicking up Our Kindness."
But the unofficial theme at Indi-ED has been "Balancing Fun with Serious, Focused Learning".
It is the holiday season after all, and we want our students to be able to experience that, along with other fun activities. However, it also means they have to be able to switch modes quickly and be able to stay on track when it comes time for content and application of learning.
We believe it is very important for our students to be able to attain this kind of balance in their lives. To understand there is a time for work and there is a time for play. And that sometimes you CAN combine the two!
For some of our students, this meant finishing up a report to meet a Future City Project deadline so that they could assist with putting up Christmas decorations.
This week, it also meant taking group Christmas photos at the park, then immediately returning to school to meet with our engineer mentors for the project.
For the younger cohort, it means going to a Kids n' Kubs baseball game to learn math first, then to spread joy after.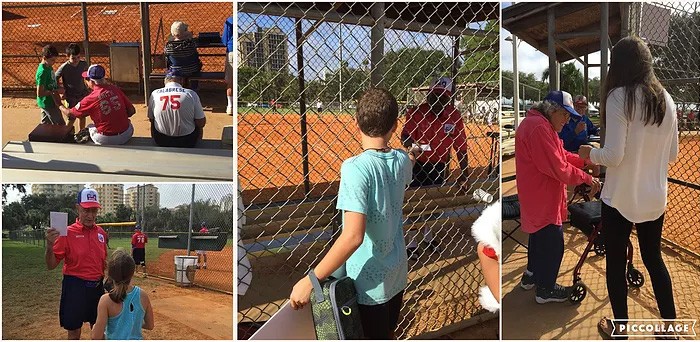 This Future City Project was first introduced in a previous blog post, which you can view here. As my students continue working on this project, they are continuing to find ways to improve, expand on their ideas, and learn every step of the way. Recently, we have been very lucky to have weekly visits from two engineers, Sarah and Tracy, who both work for Lochner in Tampa.
As described by Ethan, Sarah and Tracy introduced the students to scaling this week.
These two engineers are providing invaluable insight, and showing the students the similarities between their work as engineers and the work the students are doing to complete their city model. The significance of this is really amazing, and the students are starting to realize it. It is beyond incredible to witness students (such as Ethan) holding conversations with professional engineers regarding the scaling options for creating a building plan.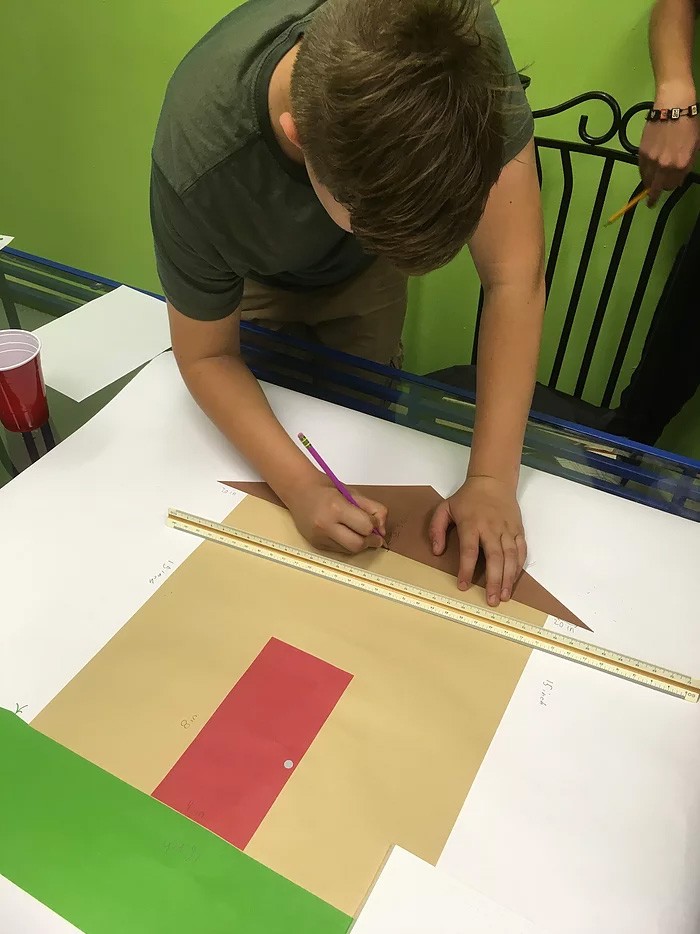 In addition to providing these real-world experiences with experts, there are many other ways we are continually working to do what is best for our students and to provide balance between work and play. For example, I made changes to our previously planned curriculum to align with their needs and wants. In math, I am making sure to include examples of scaling when they are learning about converting between fractions and decimals.
My students are also very interested in history and space science, so I am working to align these two content areas and provide real-world experiences in the form of walking history tours around the city of St. Pete. Back to our theme of "Balance"- my students know that these are unique, and yes FUN, opportunities, but they do not just view them as "free days" to walk around outside. They will remember what they have learned and be able to apply that when completing projects on Florida history.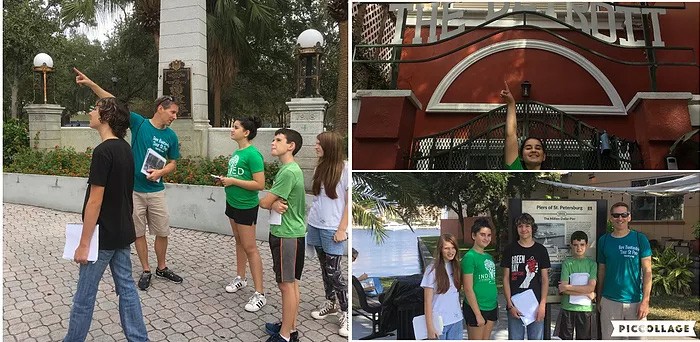 As an educator, working to provide an environment of balancing fun and work is not always easy.
Neither is going the extra mile to find real world opportunities for the students to genuinely apply their learning.
BUT it is the type of balanced environment that helps make connections and always pays off.
Ms. Heller