Last week, we had the amazing opportunity to have a tour of the St. Pete Innovation District. The Executive Director of the District, Alison Barlow, visited our school a couple weeks ago and based on our interests, she coordinated the entire tour for us. It was a day we will never forget.
During our tour, we went to Poynter Institute, USGS, Johns Hopkins All Children's Hospital, and lastly, the USFSP Kate Tiedemann College of Business. At each of these places, we had the chance to learn from experts about what inspires them and how they innovate within their fields. These experts included Wendy Wallace, Cheryl Hapke, Kyle Kelso, Billy Schleif, Kim Macuare, Elliot Wiser, and Dr. Sridhar Sundaram, the Dean of the College Of Business.
We learned so much from each and every person that spoke to us, to the point where our brains felt like they could almost explode! For example, we learned at USGS (US Geological Survey) that they sometimes use jet skis to survey the coastlines with laser beams. Or, how journalists are constantly curious and finding the right sources of information. Another one would be at Johns Hopkins ACH Biorepository where the manager, Billy, told us that when you have a heart attack, the doctors could take blood samples to tell if the heart attack affected you in the long-term. He also showed us part of the Biorepository that was filled with thousands of cells and tissue samples in liquid nitrogen and freezers.
Before we get too carried away, let us back up a little and take you through our amazing day and what we will remember from each expert…
To start off the day, we traveled to the Poynter Institute to meet Wendy Wallace. She discussed journalism with us, sharing her knowledge and asking us questions. She told us they are focused on constantly innovating to find the best way to train journalists, and to find the best sources of reliable information. Also, that the heart of all journalism is asking questions.
We then completed an activity called "Question and 5 More". During this activity, one of us asked a starting question to one of our teachers, Mrs. Pethe'. Then, after Mrs. Pethe' would answer, 5 other people had to ask a follow-up question that would relate to the one before. Through this, Ms. Wallace taught us how to ask better questions; questions that give the interviewee time to think. We also learned that by asking deep, meaningful questions, we learned more about the subject (Mrs. Pethe'). Our cohort will definitely use this valuable interviewing technique as we gather information for writing our Indi-ED yearbook.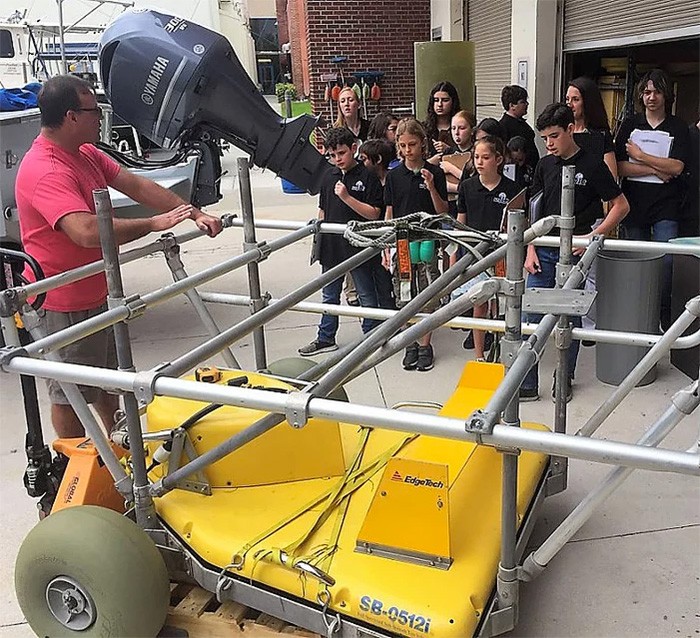 Next, we visited the USGS facility where Cheryl Hapke taught us about their focus on researching and collecting data to study the health of coastlines. She told us about the many ways innovation has helped them improve the quality of data they can collect. Then, we got to see some of this innovation in action when she took us out to Kyle Kelso, who showed us the research vessels. They innovated one vessel by putting wheels on a machine that they could not originally launch from the beach because it was too heavy. Now, they can get data in the surfline which they couldn't do before. Also, don't forget about the jet skis upgraded with computers and lasers! At USGS, we learned that you don't necessarily have to overthink to innovate. Just that if there is a certain issue or problem, you need to work to figure out ways to solve it.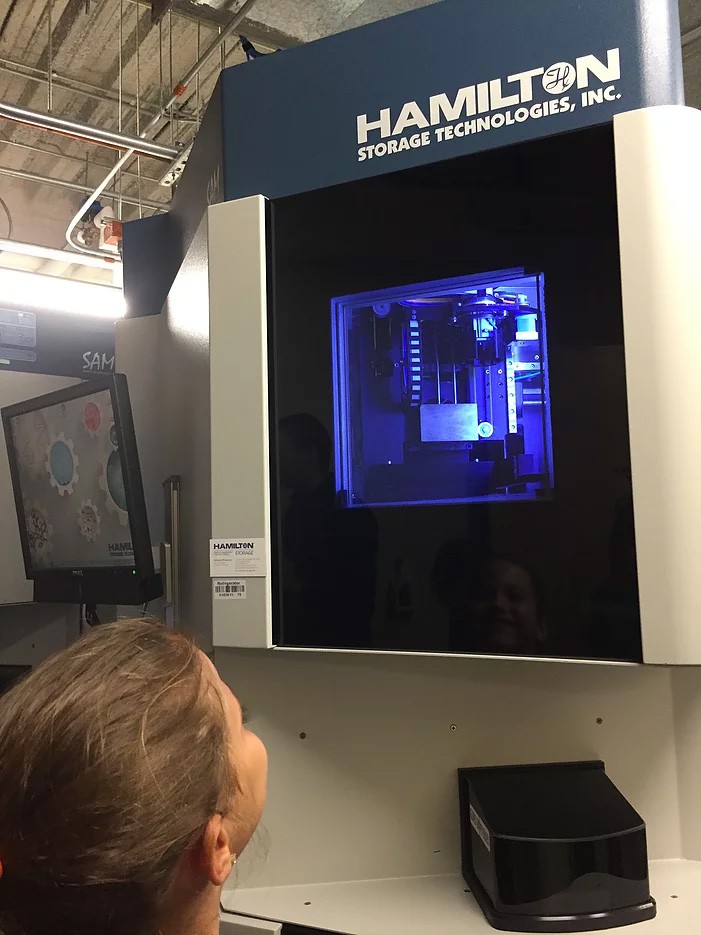 (Learning about the extremely state-of-the-art Biorepository at All Children's Hospital)
Our last stop of the day was the USFSP Kate Tiedemann College of Business, where we learned from Kim Macuare from the Dali Museum and Elliot Wiser from USF.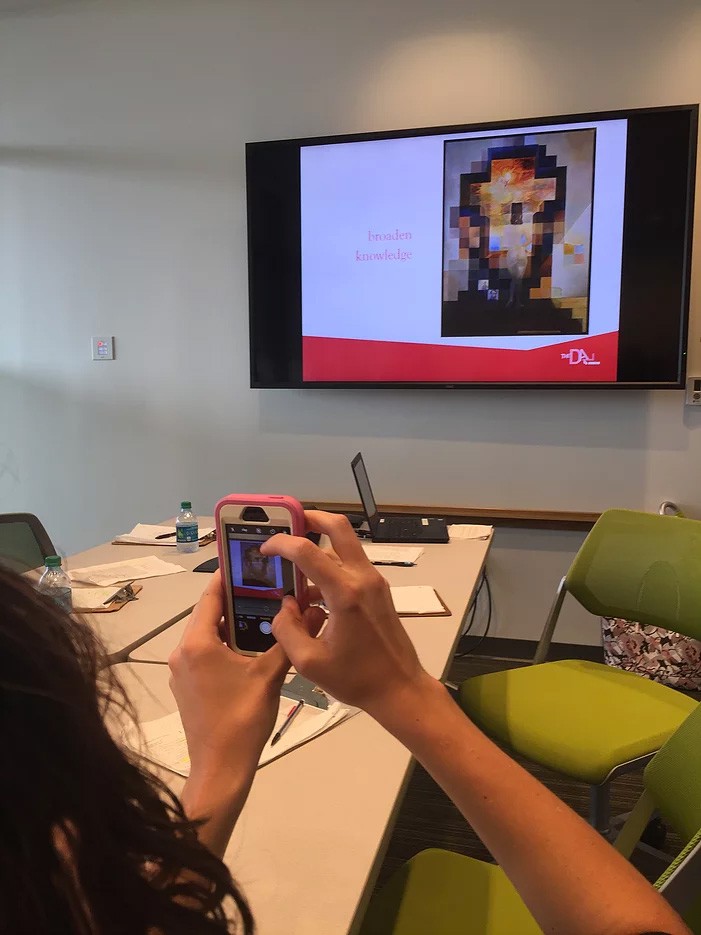 We all learned about innovation from Kim Macuare, including how they use innovative training techniques at the Dali and how art can teach you how to see the world differently. Art uses different perceptions to truly understand the piece of art itself. Everything that is "hidden" can change your point of view of the art, an artist, or even the world around you.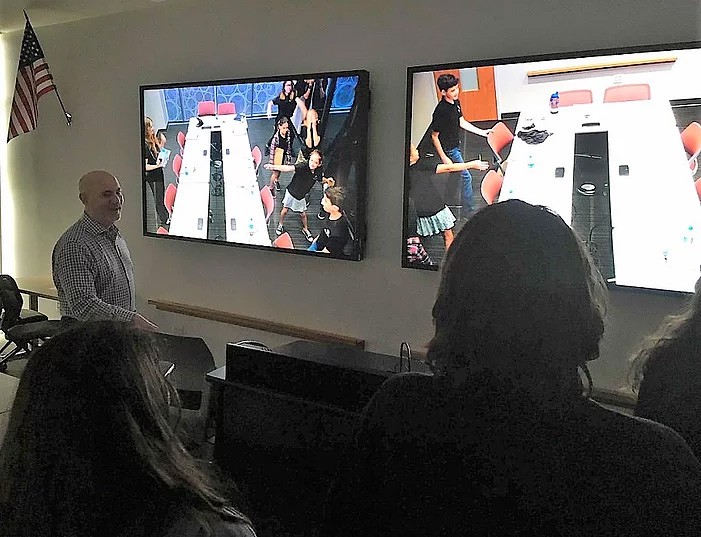 Elliot Wiser showed us the "Spark Room" at USF, where meetings between various groups of people can be recorded and observed to help generate ideas. We absolutely loved this experience and would like to try to recreate the concept at Indi-ED someday. Mr. Wiser also told us that he created Bay News 9 about twenty years ago, so we trust that he has great ideas!
Last but not least, we were lucky enough to speak to Dr. Sridhar Sundaram, the Dean of the College Of Business. He took the time to ask us questions and answer our questions as well. It was truly an honor to be able to spend time learning from him. He told us about his career and what inspires him. What stuck with us most is when he shared that part of what inspires him is having the strong belief that he could genuinely make a difference, and that if you want change to happen, you need to be a part of the change.
We feel that all of the experts we met that day had slightly different opinions of what innovation meant to them. However, a message we feel they all had in common is the importance of thinking and seeing the world differently, and being confident with your ideas.
While this post includes many of our highlights from what we learned at the Innovation District, it is not all-inclusive. Everything we learned would take much longer to fully describe. But one thing is for certain, we will never forget that day.