Here at Indi-ED we place high value on real world experiences and incorporate them into our school days as often as possible.
Just this past week, we had several.
Our students learned about the design and construction process from a professional architect (for a construction project they came up with and they will carry out, more on that at a later date). They also went to Williams Park to hand out Valentine's cards to the homeless, attended the St. Petersburg Conference on World Affairs and attended the USF Engineering Expo.
Before participating in any new experience or event, we always ask our students: "Why bother?"
Why bother handing out cards to the homeless in our community? Why bother going to a conference on world affairs where you will likely be the only kids there and may not understand every issue being discussed?
Our students are able to articulate the answers to these questions and understand WHY we do what we do and WHY the particular event is significant. Sometimes their responses included reasons that we, the teachers, did not even think of or foresee.
On Valentine's Day we handed out the suspended cards (from Localtopia) to the homeless in Williams Park. Before heading to the park, we discussed with the students what we were going to do and WHY.
They understood the meaning behind our actions, and that it is important to simply share messages of kindness, hope, and love. It is important to show kindness to those who have nothing to give you in return. It is important to honor human connections and show respect to people that have very different lives than us.
Our students even discussed how they were FEELING before we went to park. Some acknowledged that they were nervous and maybe even a little uncomfortable. They knew, however, that it is okay to feel uncomfortable sometimes and that we did plan ahead to make sure that we did it safetly. They also expressed how they felt afterwards- almost all said "HAPPY!"
Our next real world experience was attending the St. Petersburg Conference on World Affairs. Again, before we left school to head to USF St. Pete, we asked, "Why bother?"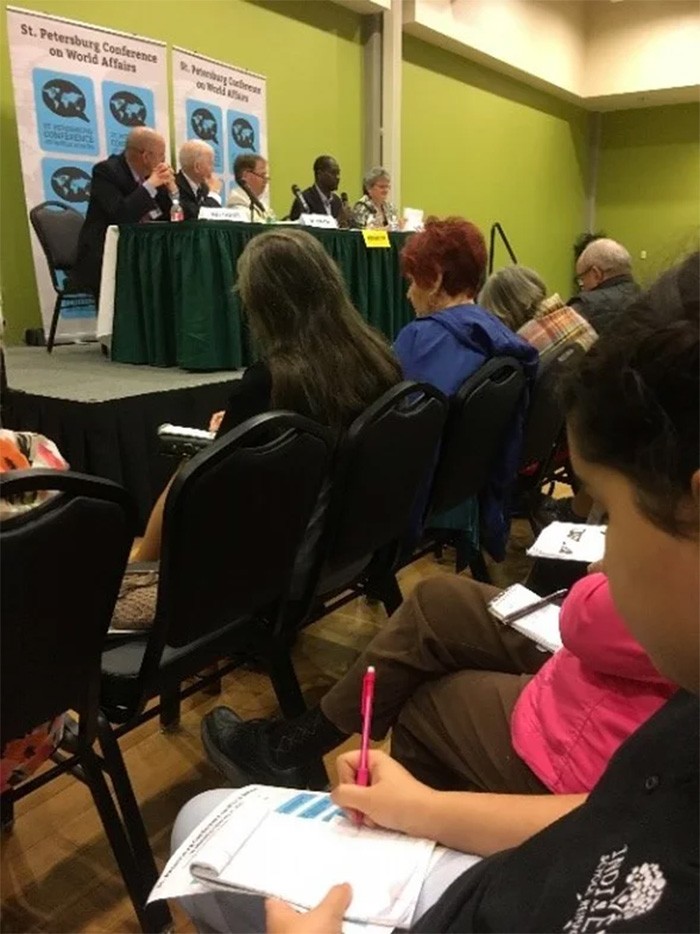 The students understood that this conference was an opportunity to be exposed to bigger ideas and international issues that they may have never heard of. They would probably be the only kids there, in rooms filled with community and world leaders. But at this point- they're excited about those types of experiences and see them as opportunities because they've been able to experience what it's like to have something unexpected and lovely happen as a result.
They were aware that they would probably not understand all of the issues being discussed. Issues ranging from the state of Africa's economy to international education. However, the kids knew that this experience would help push them to grow intellectually and socially.
Some of our students generated questions for the panel experts, and most of them took notes on the content and quality of the seminars. They did this completely on their own, with no prompting from a teacher!
We also went to the USF Library during a conference break, and our students found books that they related to content material they are currently learning about. One found a book containing a timeline, which relates to their history unit and another found one with blueprints and said, "Look it's like the architect showed us yesterday."
These experiences are connecting to content, and it's happening organically.
REAL experiences = REAL learning if you encourage them to "pay attention". (Line from our pledge.)
Lastly, our middle schoolers and high schoolers attended the USF Engineering Expo in Tampa. In addition to learning from college students and professionals, they also got to explore a college campus- some for the first time.
Again, they understood the significance of this experience. They saw a physics show in a real lecture hall, with amazing demonstrations given by USF Physics students. They visited every floor of the USF Library (which is seven floors, including the basement!) because they were simply excited to do so. They got to witness how some college students study and collaborate and learn.
Indi-ED students are getting to experience certain things in life that most of us didn't get to until we were adults, if we were lucky. In the process of doing so, they are also learning about themselves and the potential that awaits them in life!
These are not your 'average' learning experiences, but that's the point.
Here at Indi-ED, we do things differently. We learn differently. We learn not just via an occasional field trips, but through REAL experiences that we can consistently build upon.